Eventually, I turned to the classic spooge tank, for de-rusting, which worked quite well.

I used primer and flat black paint on the hinges, except the front faces--these got an etching primer as they will eventually be painted the same color as the car body.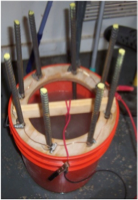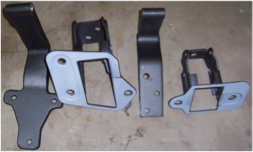 T
he hinges (pins and bushings) were shot. I heard that DORMAN HELP! #38381 would serve as a good replacement for these. This proved to be true—almost. Here is a picture of what I got out of two of the DORMAN kits.
The parts in the red are what I needed. The brass fittings have an OD of 0.418" which is exactly what the old brass bushings (on the bottom) had. The plastic bushings on the top, however, had an OD of 0.414. As a result, I had to remove 0.004" off of two of the above bushings. I don't have a lathe, but an electric drill and some 200 grit sand paper did the trick. I had to tap each of the bushings in place with a small hammer.
The finished hinges have virtually no play.